Secure Order Form
I understand that my order is covered by Bob Grant's zero-risk, iron-clad, 100% "This Is Going to Change Everything -- or I Get My Money Back" guarantee as follows: I can try out the tips, tactics and strategies on for size for 60 days. I agree to give it a fair try and if it's not worth at least 10 times more than I paid for it -- or if it doesn't revolutionize my love life -- or if I'm not 100% satisfied with it for any reason, I'll receive a refund of my entire purchase price of $47. NO QUESTIONS ASKED.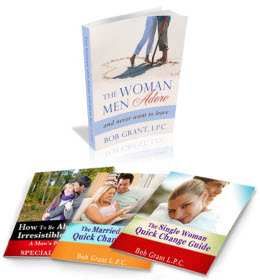 What Real Women are Saying About The Woman Men Adore Coaching Club
Nyssa From Atlanta
"Bob, your program on The Women Men Adore is fantastic. I read it in one weekend, underlined tons of pointers, and will be referring to it regularly. I have been divorced/single for about three years and just started to date a few months ago...I just want to thank you for sharing the information in a format that reaches anyone who wants it."
All the best,
Wendy
"I love getting the emails and bought "The Women Men Adore". I think the advice is right on and have found it very helpful. I have a friend who is a marriage counselor and she says many of the same things, which puts her in good company. I love Bob Grant!"
Loni
Dear Bob Grant,
Thank you for your book "The Woman Men Adore...and Never Want to Leave.".I enjoyed reading it and have tried one of your suggestions and it worked :),so I trust all the others and I' m exited about their effects,.so thank you very much indeed!
Best wishes,
Maria
Privacy Protection
We never disclose customer information. We hold your privacy in the highest regard and will never sell, rent, or share your information.
Secure Checkout
Your order will be processed on ClickBank's 128-bit Encrypted SSL Server. We've chosen Clickbank because it is the Internet's largest and most trusted online e-commerce outlet.